Diary (archive)
Hello everybody!!!
Happy New Year and Merry Christmas to you!!!
Now I am in Florida with my team getting prepared to the coming season. My schedule is the following: I get up early, then I have breakfast at 8, at 9 I train in a gym, then do icebreaker exercises, stretching, fitness, and the rest of the time before lunch I spend on the court. We have lunch at 13.00 after which I take some rest till 15:30-16:00 and then we go to the court again. We finish at 19:00, then have dinner and go to bed.
It is a very small town, there are no shops near here, but there is a shopping-centre, a mall, but it is always overcrowded. Our people visited it last weekends and after their stories I decided not to go there and to get prepared to the coming holidays through Internet. All that I ordered will come here right in time. We are going to stay here till the 31st of December, then we are going to New-York, and on the 1st of January we are leaving New-York for Hong Kong, where I will play an exhibitional tournament. After that I will fly to Sidney and then to the Australian Open.

Not so long time ago, I visited Monterrey in Mexico and took part in an exhibition match with Maria Sharapova. I liked it there very much. But it happened that I was taking some rest after finishing a season, I was in a Holland medical centre and I had not trained before that match at all. Masha had just started her trainings before the season and that is why, of course, we didn't play to our full potential.
It is always interesting to play a match in a new place, all the more, it was very long time ago, when I visited Mexico last, and the place is very interesting. There are different concerts, ice-shows and it was just great to play tennis there! There was a great turn-out of spectators, more than 5000 people. Almost everyone wanted to make photos with us, to take our autograph, the atmosphere was very pleasant.
First we played with children, then we played the match, after that there was a press conference, and all this was during only one day. We did not manage to see sights as already in the evening we had to leave the place. Everything was at the highest pitch: both the hotel and administration were very good!
And again, all the best wishes for the festive season!!!
Vera
translation
13-07-2010
After Wimbledon
Hi, Everybody !!
I am quite myself again, and recently I've got much to do, so many flights, from London to Moscow, spending a day there, and then - a cross-Atlantic flight to the Dominican Republic. My best friend has her wedding and we celebrate it here, in the Dominican Republic. Rain was expected, so all of us were afraid that it would start during the ceremony. Now after all those troubles we'll be having rest!

As for the Wimbledon performance the final might be better for me but I was very tired. And the Doubles redounded upon me. But maybe, it was the other way around – the Doubles helped me with the Single, and then I had the Mixed doubles at the Centre Court, it was a very hard three-set match, but Andre Sa and me lost it. Maybe it is it's just as well, for I've had too many matches. I couldn't say that this tournament was something special, I always set myself for every match and I was calm even when I got through to the final.
Before the match I thought I would be nervous, but it turned out that it was the same attitude as for the second or third round. I didn't pay attention to the fact that it was the Centre Court; its atmosphere was so pleasant and homelike. When you are playing, for example, in Arthur Ashe Stadium at US Open, it seems to be so huge that you start to feel nervous unwittingly because of such number of spectators. But Wimbledon is different. It's a pity I failed to win the Doubles, but after the final with Serena I felt like a boiled rag.
I'd like to tell you about another interesting thing, I had an attitude to reach the 4th round at this tournament. And in case I failed I should perform in another competition before the US Series to gain additional points. And in this case I should miss my best friend wedding. And it is inexcusable!
As for my new coach Sergey Demekhin it came out that I needed anyone for training after Charleston. I asked him to help me as a hitting partner in Moscow, before the clay season. I know Sergey for a long time, we have won the Mixed doubles together at the Russian Championship. He was Alla Kudryavtseva's coach before, and I asked her if I could train with him. She agreed. And we made an arrangement with Sergey for the whole clay season.
He is a good and conscious man. He played tennis himself, he even attended Benabilis Academy in the USA and he was learning to be a coach. Sergey feels a game well and he is good enough for me! So we made an agreement to collaborate at the US Open Series.
See you soon!!
Vera
translation
Hi, Everyone !!!
I  spent  several  weeks in Bradenton. Of course, I could not train in full  force  and  effect, nevertheless the training was rather good. I trained  twice  a  day  mainly  inside  and I devoted a lot of time to rehabilitation,  I  could  not spend more than an hour on court, but I could  not  hurry.  I  hope  that very soon I'll be able to start full training!  But,  for  the  time  being  I am planning to try myself in Hong-Kong in order to fully estimate my physical condition! Ooh!!!  The  flight had been so long:
an hour to the Airport in Tampa, two hours and a half flight to New-York, then more than three hours of waiting in the Airport, then five hours to Vancouver and from there 14 hours  to  Hong-Kong!!!  I hope there will be a small swimming pool in the  hotel)))  I'd  like  to  swim  a bit after such a long journey))) aah... yes…, do some excercises for foot, and play tennis for a while.
Also i wish for everybody, that New Year and New decade will be the most funny, peaceful, carefree and joyful !! Smile !! And Good Health !!
translation
Hello everybody!

I am lying in bed in my hotel in Amsterdam. I had an ankle surgery. All seem to be fine; no pain in my leg so far but certainly there is some inconvenience.
The surgery was done in one of Rotterdam's clinics, so on Thursday I had to move to Amsterdam but I was picked up and transported by the car. At present I walk on crutches. The operation was performed by a reputed surgeon Niek van Dijk who operated on many football players and now helps Cristiano Ronaldo. It turned out that I flew in on Monday and he was able to schedule the operation for Wednesday. The decision wasn't an easy one. After the Final Championship I came back to Moscow and got in touch with many famous specialists and my physiotherapist Jean-Pierre recommended Nick though I intended to fly to the US and booked a ticket but then I changed my decision. I hope that by Australian Open I'll be on-stream.
Thinking back, the SE Championships turned out just crazy; on the one hand I was happy that I managed to perform, on the other however I wanted to take care of my health. My only match turned out to be a crazy one: in the beginning I was loosing in all respects but then I recollected myself and managed to impose struggle. In addition Caroline started having problems, so it turned out to be not a match but a complete torture…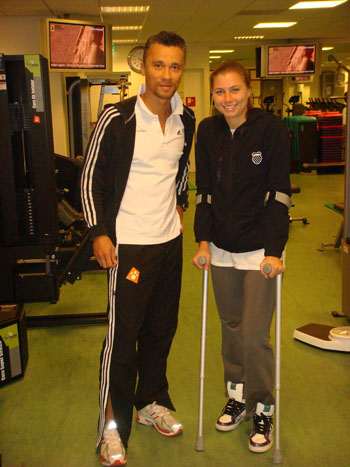 Therefore for me it seems to be a new stage and a new start. I will try to take with me only the best from the past season – a semifinal in Australia, a win in Indiana, and to think away the rest. Since now I will try to walk onto a court only when I am completely recovered.
I plan to stay in Amsterdam for two weeks, if I like it all here, I will work with physiatrist Leo Echteld from  "Fysiomed" (photo).
I was hoping to go on holidays somewhere this year at last. After Moscow Olympic Games in 1980 my mom received a tourist voucher to visit Cuba and she liked it a lot; for a long time she keeps suggesting for me to go there on holidays but it doesn't seem to be my fate again... Nevertheless Amsterdam is not the worst place either, though it's a bit cold here :))
After this I am going to Florida where I will get busy with physical training to start with. Besides I am going to meet with my coach Sam to discuss our further plans. Lately he wasn't accompanying me due to some personal circumstances and my traumas prevented from normal work as well. I hope to continue our cooperation.
Also, as you noticed, a new version of my site has been opened. There are three new sections about UNESCO, Ministry of Foreign Affairs and Rett Syndrome. Please leave your comments  :))

See you soon!!
Vera
translation